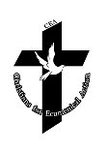 "SERVE WHOLEHEARTEDLY, AS IF YOU WERE SERVING THE LORD,...." Ephesians 6:7
CHRISTIANS FOR ECUMENICAL ACTION (CEA)
Serving the Greater Linthicum Area
Linthicum area "Christians for Ecumenical Action" (CEA) provides opportunities for the Christian community to be one in Christ; just as Jesus taught us.
Mission Statement:
Acknowledging that we are one with Christ, Christians for Ecumenical Action exists to proclaim, promote, and practice Christian Unity.
Vision Statement:
That a stronger more visible unified Christian community will take root and grow by focusing on what Christians have in common through the cross and resurrection while honoring and respecting the traditions and purpose of each individual Church.
"...And since we are all one body in Christ, we belong to each other,
and each of us needs all the others." Romans 12:5

CEA is not a church but an extension of the church community which seeks to strengthen a greater overall Christian presence in our community by building unity among us. While we acknowledge and respect the special Christian traditions within each church, we focus on and celebrate what we all share in common; namely a resurrected Savior which is greater than any of our individual traditions.

"For just as the body is one and has many members, and all the members of the body,
though many, are one body, so it is with Christ." 1 Corinthians 12:12


To bring the community together in closer Christian Unity, CEA sponsors events like the following:


.........Good Friday Cross Walk .......March 30, 2018 @ 12 Noon starting a St. Philip Neri Church, 6405 S Orchard St, Linthicum, Md. 21090
(Way of the Cross Procession- Starting at St. Philip Neri - progressing to LHUMC,
St Christopher Episcopal Church and Day Spring Presbyterian Church, ending at St John Lutheran Church)


...........Christian Music in the Park ....Nothing scheduled for 2018



...........Mission Trip .... October 13- 20, 2018 (CEA partners with LHUMC & Friends Mission Team)
Place: Tarboro/Princeville , North Carolina

Volunteers will serve our neighbors whose homes were damaged by the devastating flooding from Hurricane Matthew in October 2016. North Carolina's damages were estimated at $1.5 billion dollars to 100,000 homes and other structures. IS GOD CALLING YOU!!!

Our team is built by the Holy Spirit - so if you feel he's calling you please reach out and volunteer. We are accepting registrations up to 40 volunteers and then others will be placed on a waiting list.

Cost: TBD which includes a personalize t-shirt designed specially for our Trip.

Registration forms at request:
John Canterna
.....john.canterna@verizon.net
/ 410-978-0398
Bob
Abel....abelrobert@verizon.net
/ 410-859-8736
"Let us not love with words or tongue but with actions and in truth." 1 John 3:18
...........Special Prayer services throughout the year (such as Advent and Lent-TBD)

...........Men of Faith Conference :

5th Annual Men of Courage, Men of Faith, Men Christ Conference.

The Theme: TBD

.SEPTEMBER 22, 2018 at St Philip Neri Parish Center, Linthicum, Maryland 21090
---


For more information, contact:
John Canterna
.....john.canterna@verizon.net
/ 410-978-0398
Bob
Abel....abelrobert@verizon.net
/ 410-859-8736
Your thoughts are encouraged and your presence is greatly needed to help CEA grow and reach God's children of all ages within our community. In Christ all things are possible.